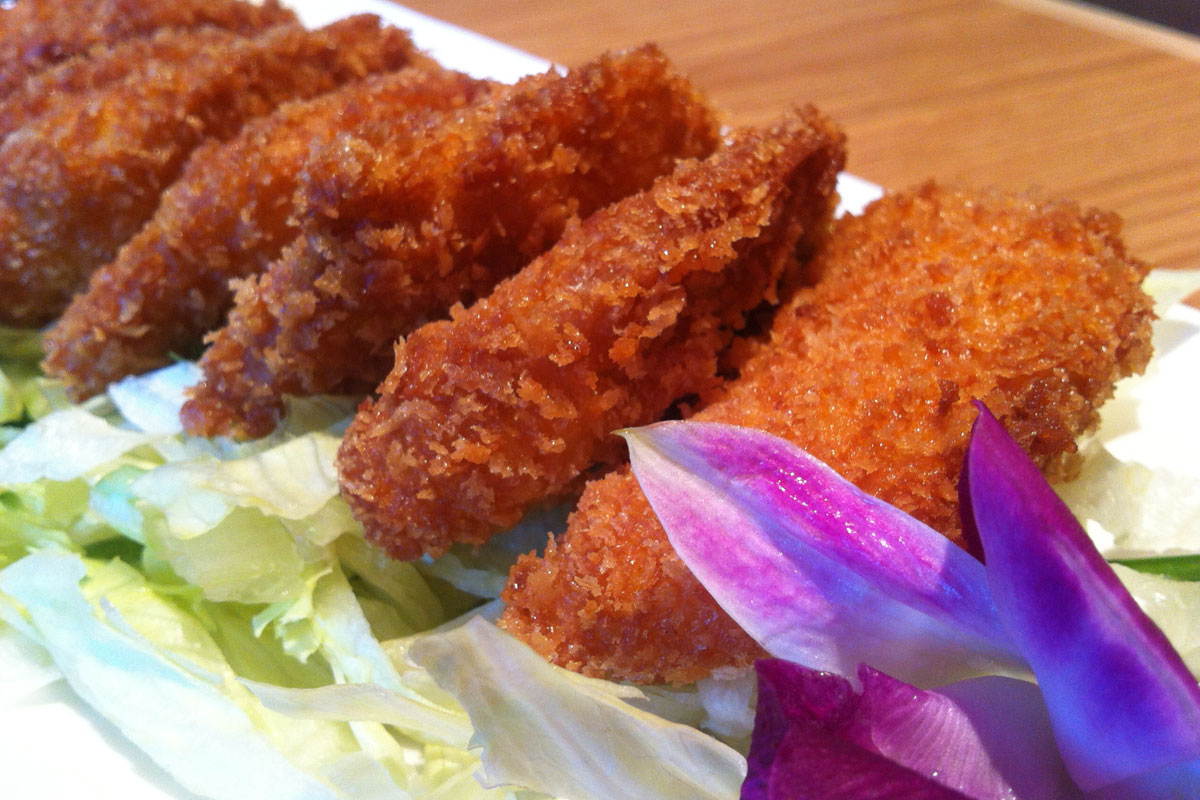 We'd heard on the vegan grapevine that a new vegetarian restaurant had opened in the CBD, and so like moths to a flame, we found ourselves at Gong dè Lin Chinese vegetarian restaurant last Friday night.
Gong dè Lin is a bit off the beaten track (if that's possible in the CBD?!), given that it's necessary to take a lift to level 3 from the front of another restaurant at 264 Swanston Street (yes that is the old address of the Shaft Adult Cinema, you perverts). The restaurant seating is predominantly booths which we liked, especially if you end up in a window seat overlooking Swanston Street like we did - not only do we get a good view over the Swanston St rooftops, but the busker below provided a good soundtrack for the evening.
The menu is about a dozen pages long with ample mock meat and mock seafood options, as well as numerous mushroom and vegetable dishes. We decided to share some Cold Mushroom and Spinach Wontons ($5), the Soya Bean Fillets ($16.80), Sauteed Sliced Mountain Mushrooms with a Hot and Spicy Sauce ($16.80) and Sauteed Spinach ($14.80). The wontons were delicious in their sweet soy sauce, which I preferred over the other accompaniment, a diluted satay sauce. However, at $5 for six of these, you can't go too wrong.
I was expecting the soy bean fillets to be fillets of tofu, however they were more akin to crumbed crispy fried fillets of vegan ham and were easily the highlight of the whole meal. The sauteed sliced mountain mushrooms with hot and spicy sauce were definitely hot and spicy and more to my sidekicks level of tolerance. The mushroom in this dish was pretty amazing though, with a succulence and texture that could lend it to be mistaken as a mock chicken. We ordered sauteed spinach to ensure we had a balanced meal and while it had a good flavour, there was an over abundance of stalks, which not only made it tedious to eat but created some competition for the leafy bits.
There's plenty more on the menu that we'll have to go back and try. Some other dishes that jumped out to us include Sauteed Vegetarian Abalone with Broccoli ($20.80), Vegetarian Goose ($12.80), Deep Fried Shredded Black Mushroom with Salt & Pepper ($18.80) and Vegetarian Sea Cucumber with Shanghai Greens ($22..80). The menu doesn't highlight which dishes are vegan, and even though most dishes are, make sure you check when ordering.
(while this does appear to be Gong dè Lin's website, it's a shocker which doesn't even spell the restaurant name correctly...)