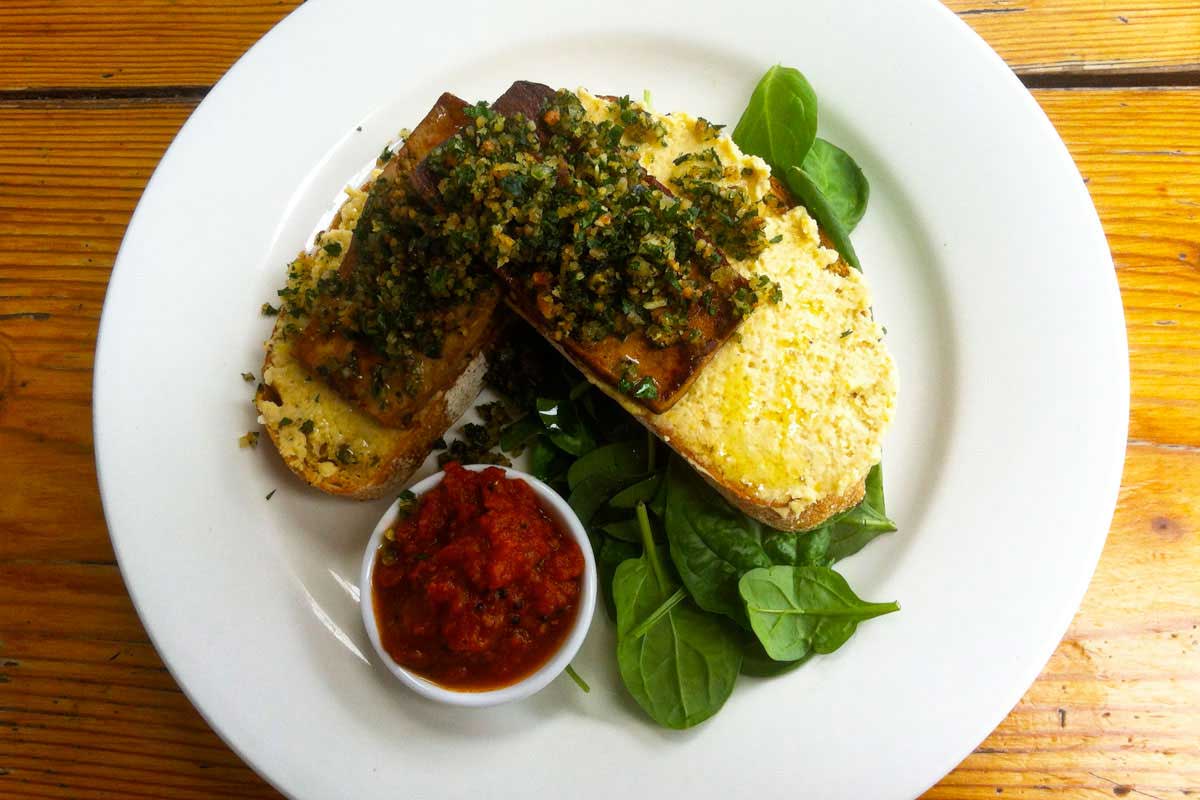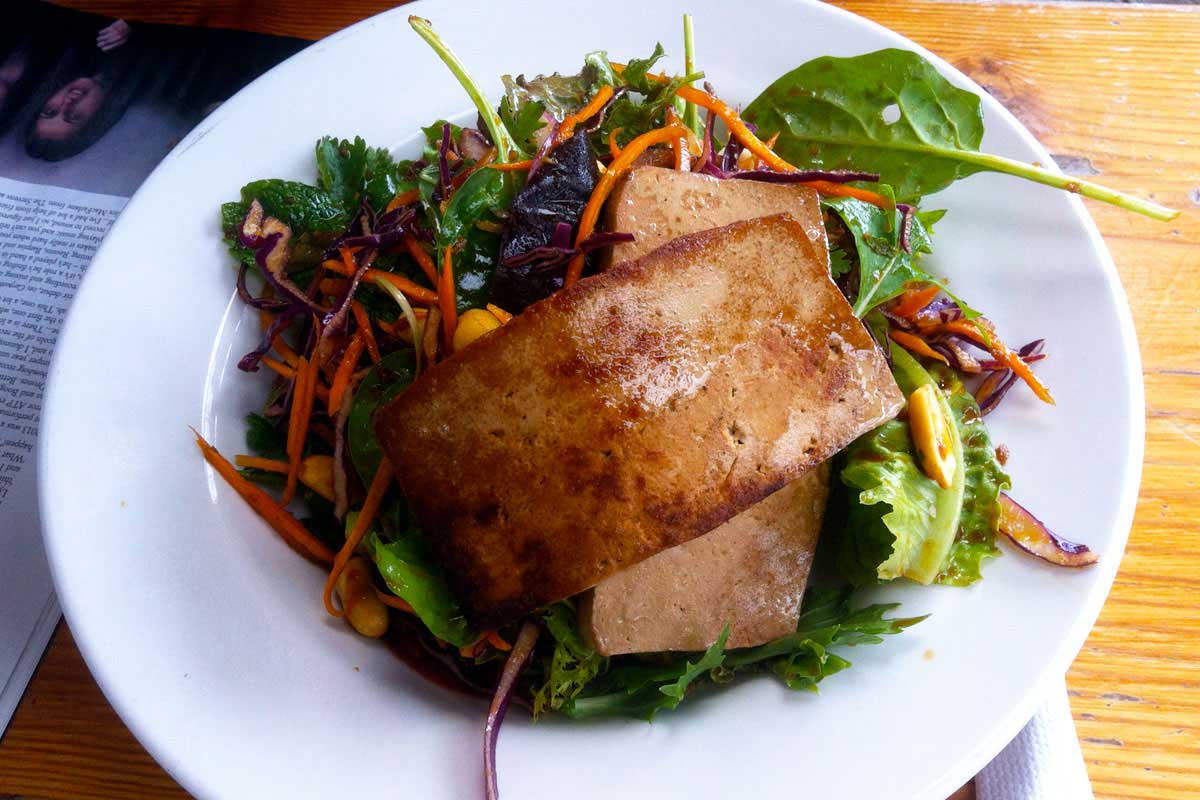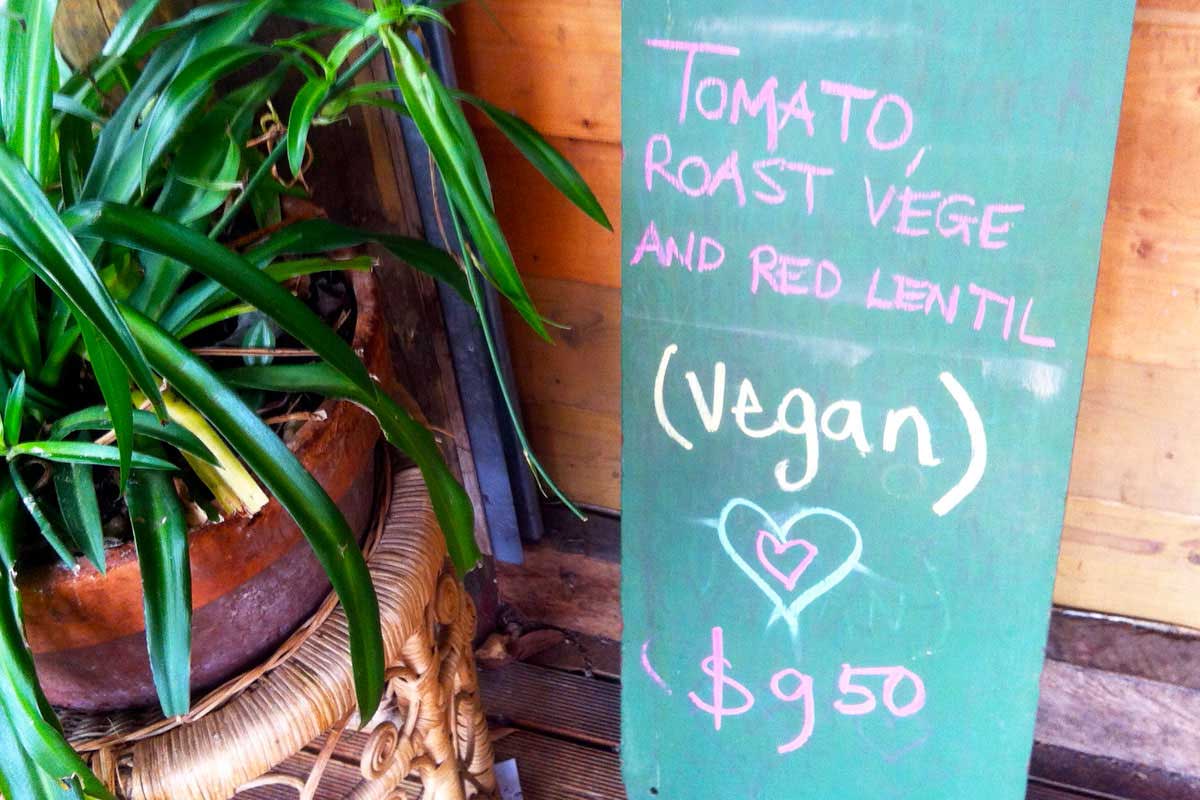 CERES Cafe (located in CERES Community Environment Park)
Cnr Roberts and Stewart Streets,
Brunswick East, VIC 3057
Phone: 03 9389 0155
Opening Hours:
Mon-Fri: 9am - 4pm
Sat-Sun: 9am - 5pm
Licensed.
CERES Cafe is located in Brunswick East's popular Community Environment Park - where much of the produce used by the cafe is organically grown on the grounds and 90% of the menu uses certified organic goods. The vegan options at CERES cafe have become plentiful lately so we thought it deserved a fresh visit.
The 'Dukkah Eggs' ($15 GFO, VO) with tofu instead of eggs is fabulous. Fried tofu, homemade hummus, pumpkin sourdough, raw spinach and spicy tomato kassundi is a winning combination; however there is only so much undressed raw spinach that one will feel inclined to eat, and there was a little too much for my palate.
'Hot Indonesian Eggs' ($15.60 GF, VO) is an old menu item that is now offered with smoked tofu instead of eggs - hallelujah! Fried smoked tofu on brown rice served with chilli sambal, spring onions, mint, coriander, salad greens, roasted peanuts and a fragrant tamari dressing combine to make a fiery and filling breakfast. The chilli sambal can pack a punch, so beware if you can't handle the heat!
Another vegan option is the 'Green Eggs' ($15 GFO, VO), which also comes with tofu in lieu of eggs along with creamy rosemary white beans (perhaps inspired by A Minor Place) on toasted pumpkin bread, a macadamia parsley gremolata and raw spinach.
There are also some traditional 'Slow Cooked Beans' ($12.50 GFO) on offer, and a 'Quinoa and Roast Beetroot Salad' ($15 GF) which are available as vegan. The 'Tomato, roast vegetable and red lentil' soup of the day ($9.50) was also vegan on our visit.
Coffee is organic and fairtrade, with no soycharge for a soy latte ($3.80) using Nature's Soy.
The CERES cafe composts all organic waste, recycles plastic, paper and waste water and uses solar electricity and tank water. All profits earned from the cafe go towards supporting other CERES projects and programs.